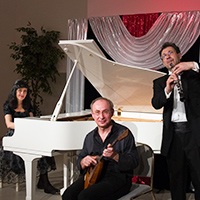 What does this CD of "Russian Consort" mean to us? It means an opportunity to preserve
the result of our musical friendship, of the emotional sparks of not-too-frequent
meetings, of the pleasure of listening. There's adrenaline in this repertoire, but there is
also great respect for di_ erent musical styles: Baroque, Russian Folk Song, Argentinian
Tango and Brazilian Choro. There's something here for everyone.
Enjoy it!
01. Kalinka / 3:56
02. Padam-Padam / 3:13